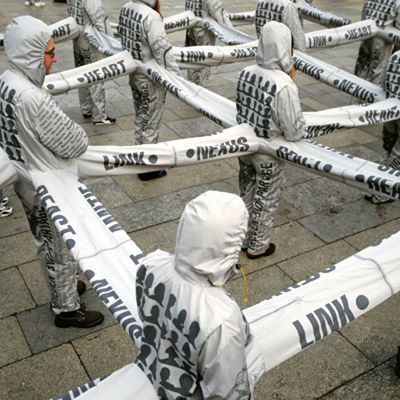 "That work resulted from a site visit I made to Johannesburg prior to the Biennale. I had visited the Usindiso women's hostel, located in the opposite side of the city to the exhibition venue.
Between these two poles, thousands of micro communities live on and from streets – streets that no white person dares to walk.
My initial instinct was to link the city symbolically, as well as physically, by drawing the women living in the hostel into the exhibition space with the work Nexus Architecture"
"The proof was the public intervention that we staged for the opening of the Biennale, which formed a defiant chain linking the city and exhibition venues with passers-by, children, men and teenagers tagging on shoulder to shoulder.
The women began spontaneously singing an improvised chorus version of Nkosi Sikelel' iAfrica (God Bless Africa), which stopped everybody in their tracks and resonated so powerfully. This song had been outlawed under apartheid"
Lucy Orta
Sutton, Regno Unito, 1966